What Can Cause Poor Circulation?
Tuesday, 21 March 2023 00:00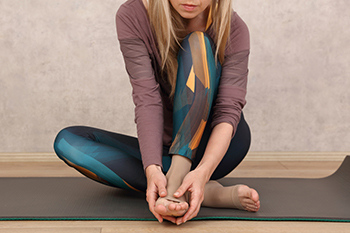 Poor circulation often affects the feet. Patients who have this condition may notice a tingling or numbing sensation in different parts of the foot, and the ankles may be swollen. It may be caused by high blood pressure, diabetes, or poor digestion. Additionally, as people age, they may become more sedentary than in prior years, causing less blood to pump through the body. When the circulatory system works well, oxygen and nutrients are sent to all areas of the body, and poor circulation may cause a lack of proper blood flow. People who have poor circulation may notice there is less hair on their legs, and their feet may feel cold. Patients may notice mild improvement when they begin a gentle exercise routine, such as swimming or walking. It is beneficial to start slowly, and gradually increase the activity level as the body becomes accustomed to moving. If you have poor circulation, it is suggested that you schedule an appointment with a podiatrist who can provide you with additional relief options, and determine what the best treatment is for you.
While poor circulation itself isn't a condition; it is a symptom of another underlying health condition you may have. If you have any concerns with poor circulation in your feet contact the practitioners of Foot Care Institute. Our practitioners will treat your foot and ankle needs.
Poor Circulation in the Feet
Peripheral artery disease (PAD) can potentially lead to poor circulation in the lower extremities. PAD is a condition that causes the blood vessels and arteries to narrow. In a linked condition called atherosclerosis, the arteries stiffen up due to a buildup of plaque in the arteries and blood vessels. These two conditions can cause a decrease in the amount of blood that flows to your extremities, therefore resulting in pain.
Symptoms
Some of the most common symptoms of poor circulation are:
Numbness
Tingling
Throbbing or stinging pain in limbs
Pain
Muscle Cramps
Treatment for poor circulation often depends on the underlying condition that causes it. Methods for treatment may include insulin for diabetes, special exercise programs, surgery for varicose veins, or compression socks for swollen legs.
As always, see a podiatrist as he or she will assist in finding a regimen that suits you. A podiatrist can also prescribe you any needed medication. 
If you have any questions, please feel free to contact our office located in Windsor, ON . We offer the newest diagnostic and treatment technologies for all your foot care needs.
Read more about Causes Symptoms and Treatment for Poor Circulation in the Feet