Wound Care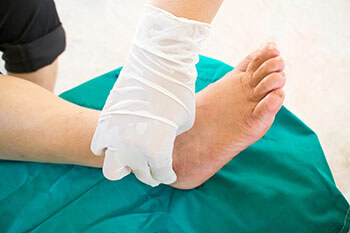 Wound care is particularly important for those with diabetes. A small wound could quickly turn into a more severe foot complication if left untreated. It is common for those with diabetes to experience neuropathy. Neuropathy is a type of nerve damage that causes you to lose feeling in the feet. Wounds go unnoticed if you don't check your feet daily, leading to limb-threatening and even life-threatening situations.
Some factors that contribute to the formation of wounds on the feet include wearing tight shoes, having a foreign object in your shoe, or friction from simply walking. What may appear to be just a small inconvenience such as a blister or callus can worsen over time, so it is important to seek the attention of a professional IMMEDIATELY. If you develop a wound, it is recommended that you try your best to keep the weight off of the area until you're able to meet with a podiatrist.
For wound prevention (especially if you have neuropathy/numbness in your feet): check your feet daily for any redness, swelling, or open sores; clean your feet daily; wear properly fitting shoes at all times during the day; have a professional perform regular routine care to your nails and calluses. Ask for help with any of the above tips because often diabetics have poor eyesight which adds to the difficulty of the above tasks.
Because wounds can lead to more severe complications, especially for those with diabetes, we recommend you speak with our podiatrist or our registered chiropodist for professional guidance and a suggested plan for treatment.
Call (519) 258-3668 to book an appointment.