Shockwave Therapy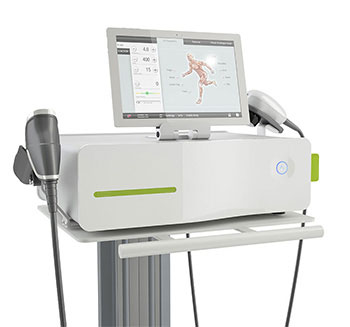 Shockwave therapy should be considered for patients who have had chronic pain of tendons, ligaments, fascia, joints, and nerve tissue. It is ideal for the treatment of heel pain (plantar fasciitis), Achilles tendonitis, tibialis posterior tendonitis, ankle sprains, arthritis, neuromas, and even foot ulcers.
Shockwave therapy delivers sound waves to the affected area, which improves the circulation to the injured area, thus, promoting healing. It actually creates new inflammation resulting in increased blood flow to the injured tissue. Therefore, it is recommended to avoid ice and anti-inflammatory medications during the weeks of treatment and a few weeks after treatment.
Three to four treatments are necessary- ideally about 1 week apart. Even after the three treatments are completed, the injured tissue continues to heal for the next three to six months.
This non-invasive technique helps improve the body's natural healing process. Often, patients notice considerable relief anytime within 1- 4 weeks after beginning the treatment.
For more information about shockwave therapy, please call the Foot Care Institute at (519) 258-3668.