Plantar Fasciitis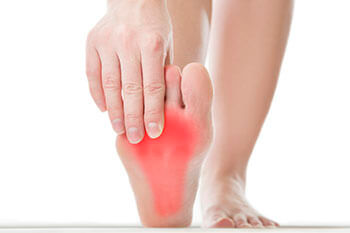 Plantar fasciitis affects the plantar regions of the foot, namely the heel, arch, and midfoot. When too much stress is put on the plantar fascia, inflammation and tearing may arise causing foot pain.
If you're feeling pain upon arising in the morning, after sitting, or after walking/standing/climbing stairs for prolonged periods, you may be showing signs of plantar fasciitis. To find the exact cause of your pain and receive appropriate treatment, it is best that you visit a doctor of podiatric medicine. You may need an x-ray of your foot.
Common causes: sudden increase in activity, wearing poorly fitted shoes or no shoes, sudden increase in weight (ex. during pregnancy), repetitive stress from running, walking or standing on hard surfaces.
Treatments may include one or more of the following:
Shockwave therapy (non-invasive) – see Shockwave tab under services
Cortisone injections
Orthopedic strapping
Stretching
Custom made orthotics by a doctor of podiatric medicine
Surgery is rarely needed because many of the conservative treatments are very effective.
Because plantar fasciitis is known to worsen over time, it's recommended that you meet with a podiatrist as soon as possible for a proper diagnosis and advised treatment plan. Most often, the sooner treatment is started, the quicker the symptoms resolve.
Call (519) 258-3668 to book an appointment.