Foot Pain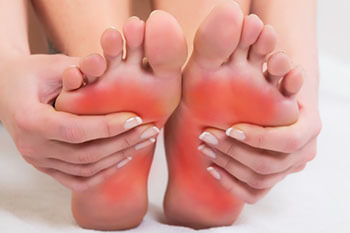 The feet serve as the foundation of the body. When pain is experienced, it's therefore extremely important to identify early on what and where the issue is.
Those who experience foot pain may also notice redness, swelling, soreness, bruising, or numbness at the affected area. Common conditions where pain is present on the TOP of the foot: arthritis, bunion, stress fracture, fracture, ganglion cysts, ingrown nails, corns and other skin conditions. Conditions where the pain occurs most often on the BOTTOM of the foot include: plantar fasciitis, posterior tibialis tendonitis, Morton's neuroma, capsulitis, sesamoiditis, neurofibroma, warts, and calluses.
If you're experiencing foot pain, it is recommended that you meet with a podiatrist as soon as possible for a proper diagnosis and suggested treatment plan.
Call (519) 258-3668 to book an appointment.