Flat Feet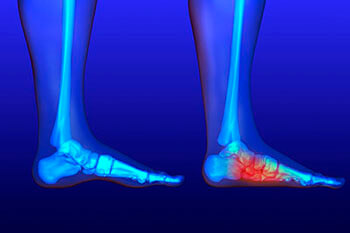 A flat foot condition describes a foot with little to no arch. Often, the foot rolls inward. While there are some people who experience no issues with their flat feet, it is common to experience discomfort not only in the foot, but in the legs, the knees, the hips, and even the back.
Flat feet may cause a certain level of pain due to the overuse and strain on muscles, tendons, and connecting ligaments. Over time, boney deformities in the rearfoot and forefoot (such as bunions) can develop due to the abnormal range of motion and "wear and tear".
Common causes of flat feet include: genetic factors, weak arches, a foot or ankle injury, arthritis, a neuromuscular disease, Charcot foot, or a tarsal coalition.
When it comes to treating flat feet/fallen arches, custom-made orthotics from a doctor of podiatric medicine may be beneficial to help control motion and thus, relieve the pain.
If you'd like more information on how to treat pain caused by flat feet, consult with a doctor of podiatric medicine for conservative and/or surgical options best suited for your case.
Call (519) 258-3668 to book an appointment.