Diabetic Foot Care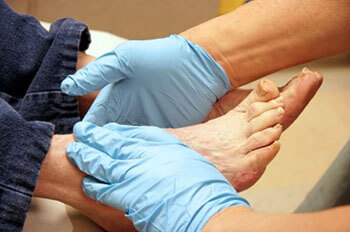 Unfortunately, foot problems are often a common result of having diabetes. Diabetes can cause nerve damage, known as diabetic neuropathy. This can lead to tingling, a painful sensation, and/or loss of feeling in the feet. This can become incredibly dangerous, especially if you can no longer sense a blister or cut on your foot. Sores or infections may result.
Maintaining healthy foot care starts with managing your blood glucose levels (blood sugar). Checking your feet daily for cuts, sores, blisters, plantar warts, ingrown toenails, or other troubling foot conditions is highly recommended. If you happen to develop a corn or callus, never treat it yourself; seek the help of a podiatrist immediately. Wear shoes at all times for protection of skin and support of joints. Avoid smoking as it significantly restricts the blood flow to your feet and delays healing.
In serious cases, you may notice a cut, blister, or bruise is not healing after a few days. It is important to seek the help of a professional. Warning signs include redness, swelling, a callus with dried blood inside of it, or an infection that causes discoloration of the foot and has an odor.
If you'd like more information on how to care for a diabetic wound or maintain healthy feet while living with diabetes, seek the assistance of a doctor of podiatric medicine who can provide you with the information needed.
Call 519.258.3668 to book an appointment.